A poll conducted between 1st and 5th December has revealed that the incumbent Libyan Prime Minister Abdulhamid Dbeibeh will win presidential elections that to be held in December 24. The survey was conducted by Diwan Research Center by  phone with 1106 registered voters randomly chosen using computer-generated random phone numbers.
According to the poll, Libyan people are highly satisfied with Dbeibeh's performance as shown below.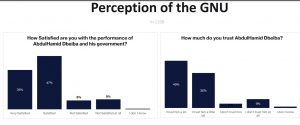 On the other hand, 84% of people oppose the postponement of elections.
Regarding people's choice among candidates, 49.7% of respondents said they will vote for Dbeibeh.
Dbeibeh also wins against all candidates when he vs any other candidate is compared one by one.
According to İbrahim Karataş of Turkish survey and poll company Anar Araştırma, Prime Minister Dbeibeh may have a landslide victory unless there is a foreign intervention and vote fraud during elections.