Both Iraqi prime minister Mustafa Al-Kadhimi and Kurdistan region prime minister Masrour Barzani expressed support for the Turkish Army's presence in Northen Iraq over the weekend following controversial comments by Iranian envoy to Baghdad over violation of Iraqi sovereignty.
"PKK have occupied mountains and even residential areas. Sometimes farmers are denied access to their lands and even being deported (by PKK) from their villages," said Masrour Barzani when answering a question on France 24 about Turkish Army's operations in Northern Iraq.
"We hope that PKK realize its military presence in this area is not going to be tolerated by us," Barzani reiterated during the interview. The Iraqi Kurdistan prime minister, however, pointed out that current operations wont put away PKK for good.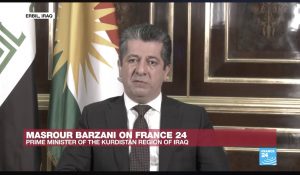 Iraqi Prime Minister Mustafa Al-Kadhimi has also spoke to Saudi Arabian Asharq Al-Awsat where he said Turkey has respect for Iraqi sovereignty and wants to improve relations. "We are concerned about any attempt that impacts our sovereignty but Ankara has eased our concerns," Al-Kadhimi answered to a question about Turkish Army's operations inside Iraq.
Both remarks from senior Iraqi officials came right after controversial comments by Iranian envoy to Baghdad, Iraj Masjedi,  on February 28th. "We do not accept at all, be it Turkey or any other country, to intervene in Iraq militarily or advance or have a military presence in Iraq," Masjedi said. Turkey's Baghdad ambassador Fatih Yildiz, quickly responded, writing on Twitter that Iran's ambassador was "the last person to lecture Turkey" about respecting Iraq's borders. Turkey then summoned the Iranian ambassador to the country on Sunday over the remarks.
Turkish Army has carried out successful pinpoint air strikes in Northern Iraq eliminating senior PKK figures with intelligence support on the ground and constant drone presence over the area. PKK has lost much of its ability to conduct any attack within Turkish borders but occupied Sinjar in Iraq.