Hypocrisy and Islamophobia have become hallmark of France under President Emmanuel Macron.
And why not, when Macron is himself promoting anti-Muslim feelings in the country which saw mass and longish protests against his government since 2018.
In a viral video on social media, the "unwelcomed guest" to Lebanon, Macron is seeing verbally attacking a Journalist for exposing French president's unannounced meeting with Hezbollah.
"… What you are doing is serious, unprofessional and petty," an angry Macron yelled at French journalist Georges Malbrunot who claimed in daily Le Figaro that French president threatened to impose sanctions against leaders of the militant faction who may resist "necessary reforms that France seeks".
Do not forget, after the fall of Ottoman State, France overtook Lebanon, in a so-called mandate by now dead League of Nations – leaving a trail of colony legacy which the Labanese people still suffer from.
Macron's attack on the French Journalist came just a day after he had refused to condemn or stop the French Islamophobic magazine – Charlie Hebdo – from publishing material on Islam's last Messenger (SAW).
Hypocrisy was apparent on his face when Macron, during his second visit — termed as "much to-do about nothing" — to blast-hit Beirut, said he would not criticize the the magazine's decision to republish the cartoon.
It is not just hypocritical by Europe's own standards which claims to enlighten the "old, conservative" East but it speaks of how deep islamophobia is embedded in France's establishment.
Let's not forget when #CharlieHebdo depicted Aylan Kurdi, the 3-year-old #refugee who drowned, would've grown up to be a sexual predator had he lived!#France pic.twitter.com/nkYJbcsQ5C

— DOAM (@doamuslims) September 2, 2020
Charlie Hebdo is an infamous weekly tabloid which has repeatedly published material in disrespect to Islam drawing worldwide condemnation since 2006.
France has the largest Muslim population in Europe – at least five million – and the community faced 1,043 Islamophobic incidents.
Drawing ire of those hurt by its blasphemous acts in the name of "freedom of speech", Hebdo announced early this week to print the images of the Islam's beloved Messenger (SAW).
On January 7, 2015, two armed men opened fire on Charlie Hebdo office in Paris killing 12 people and injured 11 others. The trial of 14 people believed to behind the attack started in France this week. If convicted, they may face 10 years to life in prison.
Turkey and Pakistan slammed the Hebdo move calling it a step towards fascism and racism.
"At every opportunity, those who define themselves as democrat and liberal are serving the new generation of fascists and racists in France and Europe by using such racist and discriminatory actions that increase anti-Islamism and xenophobia," Turkey said.
In its condemnation, Pakistan added: "Such a deliberate act to offend the sentiments of billions of Muslims cannot be justified as an exercise in press freedom or freedom of expression. Such actions undermine the global aspirations for peaceful co-existence as well as social and inter-faith harmony."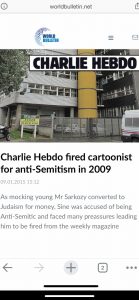 But one cannot see France's repeated offensive policy towards Muslims in isolation.
Macron's rise in domestic politics is product of "otherizing Muslims".
The Hebdo move, Ankara said, reflects "pathetic mentality".
France is the first country in the so-called "enlightened" Europe that banned full-face Islamic veil in public places on 11 April 2011.
Under the new anti-Muslim laws, no woman, whether French or foreign, is able to leave their home with their face hidden behind a veil. Those who obey Islamic values are fined.
However, this move has also generated sympathy for the Muslim community in the country with many non-Muslims paying fine on behalf of those found guilty by France's laws based on "pathetic mentality".
According to Lanna Hollo, who is a senior legal officer with the Open Society Justice Initiative in Paris, Islamophobia is on the rise in France.
"… in France, it has sparked a deeply concerning escalation of Islamophobia – one that is being fuelled at least in part by the words and actions of Macron and other political leaders," he wrote in Al Jazeera.
"Macron has said that no one should be stigmatised for wearing the headscarf or veil. Yet his government's efforts to combat extremist violence increasingly look like a cultural assault on Islamic religious practices," Hollo added.
Human Rights Advocate and Head of the Justice & Liberties For All Committee, Yasser Louati, believes the climate in France has become "highly dangerous with Islamophobic attitudes and narratives being condoned by public institutions, political parties and the media".
"So much that it has become the most respectable form of racism. Islamophobia brings together the whole French political spectrum," Louati told TRT World.
According to "European Islamophobia Report" for 2019, mosques were attacked in France when a white supremacist terrorist Brenton Tarrant massacred 51 Muslims on March 15, 2019 in Christchurch New Zealand.
Besides physical Islamophobic attacks, there have 20% of incidents reported online by Muslims in the country.
The European Islamophobia Report is annually published by Foundation of Political, Economic and Social Research (SETA).
French Minister of Interior Christophe Castaner told a commission in May 2019 it is possible that people carrying far-right ideology "are still likely to carry out attacks against a mosque in France".
His statement came after Christchurch attack.
Malaysia-based Consultative Council of Islamic Organizations (MAPIM) described the Hebdo move as "deliberate intimidation" and "an uncivilized action."
"It wants to create rifts between religious communities under the name of what is seen as freedom according to the law of France," MAPIM said.
Turkey's Communications Director Fahrettin Altun is one of the few voices to show mirror to Macron over his hypocrisy.
"Mr. Macron dreams of a world, in which he is not subject to scrutiny or reality: He wants reporters not to report because it would upset him. He wants a war criminal [Khalifa Haftar] to win the Libyan civil war just because he so desires," said Altun condemning Macron's verbal attack on Malbrunot.