Subi Mamat Yuksel is a mother of three beautiful children and lives with her family in United States for past 13 years.
She vividly remembers her childhood days when she sees her children play with their father in the local gardens of Virginia.
"He (her father) would play his accordion, or our traditional music instrument Duttar and we would sing and dance," recalls Yuksel longing to see Mamat Abdullah, 71, her father, who is in a Chinese jail since 2017.
"I loved taking a long walk with my dad after dinner (during my childhood). I have had the most wonderful childhood, and I am very lucky to be raised in a very loving family," Yuksel told Straturka.com in an interview from her US home.
Her toddlers regularly interrupted the interview session reminding Yuksel of her beautiful memories when she lived in Xinjiang province in western China along the borders with Pakistan. Many Uyghurs call Xinjiang as East Turkistan which Beijing refuses to accept.
Abdullah's is one of the hundreds of stories from Xinjiang – where ethnic Uyghurs — mostly Muslims – live. There are slightly over 12 million Uyghurs.
There have been mass allegations of mistreatment and cultural genocide of this community by Chinese authorities especially since 2014 after incumbent President Xi Jinping reportedly took a "top secret" decision in 2014 to "kill one-third of all Uyghurs, lock up one third, and convert one third (to Chinese Communist Party ideology)".
Yuksel fears to call Xinjiang as East Turkistan. "They (Chinese] authorities have jailed my father on allegations of being a separatist and if I choose to refer to Xinjiang as East Turkistan, he will face more harm," she explained.
It was in 2007 when Yuksel accompanied her brother, and his wife, and moved to US. She had just graduated from High School in Xinjiang capital Urumqi where the family lives.
She graduated from George Mason University in Virginia, majoring in Business Management. She is married for seven years now, and has also attained US citizenship.
"We are a very typical Uyghur family of 5; I have an older brother and a sister. Both of my parents, my siblings and majority of my relatives back home (in Xinjiang) and worked for the government for many years," Yuksel said.
Abdullah, her father, worked as Chief of Xinjiang forestry department and retired from services in 2008.
"Because of his professionalism, his leadership skills and knowledge, he'd always had governing positions," Yuksel said about the work of her father.
"Even though he has occupied important positions and his work required a great amount of responsibilities, he would always make time for his children and tried his best to create memories together as a family."
She said her parents often visited them in US until the Chinese authorities took her father in custody in 2017.
Yuksel recalls it was April 29th, 2017 that her parents were preparing to leave for US.
"All of a sudden, my father went missing," she exclaimed.
"After three long years of my father's disappearance, the Chinese authorities sentenced him to life in prison accusing him of being a separatist," she told Straturka.com.
The Chinese authorities have confiscated her parents' passports, too.
"They also accused my father for mis-using government money and confiscated his lifelong earnings and my mother's retirement income and insurance and left my mom with nothing," Yuksel added.
Yuksel accused Chinese government of victimizing "prominent, well-educated and wealthy figures" in the Uyghur community.
"Such as my father who worked for the government for many years," she argued.
"After making false accusations against such Uyghurs, Chinese authorities confiscate their lifelong earnings and leave their families with nothing and at the end, they imprison them without showing any evidence nor findings," she claimed.
On why her family was silent until now, Yuksel said: "we have been silent for almost 3 years after my dad's disappearance. Because we were afraid of my mom's and sister's safety. We have been worried that it would negatively affect my dad's hearings."
"However, after the sentencing, we couldn't bare the injustice that we faced, and we finally broke our silence," she said.
Yuksel's appearances in western media at a time when US and China are at loggerheads has generated a negative impression by state-run Chinese media against her.
"Chinese media accused us for fabricating my dad's case," she said.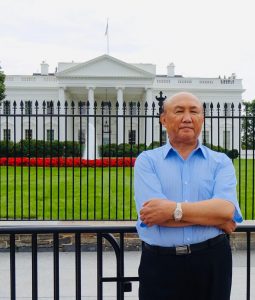 Washington has imposed sanctions on several Chinese officials for alleged human rights violations on Uyghurs in Xinjiang.
According to Yuksel, Chinese authorities "even didn't provide the court order to us after the hearings".
"We don't know exact evidence the court has used, however, one of the main motives (of his arrest) is him being well respected, well-educated and prominent Uyghur man among our society," she said.
She said a Chinese official who regularly visited "my mom and sister back home after the arrest of my dad told my family that one of the reasons about Abdullah's arrest is that his two children are living in the US".
Last time, it was in 2015 that Yuksel's parents landed in the US to see her first baby. "That was the last time I saw him (Abdullah) near me."
When Abdullah was arrested in 2017, he was buying presents for his grandchildren while on way to US. His son had become father of another child.
"My father has never committed any crime and has spent his life doing valuable work," Yuksel insisted. "Because of his dedication to his work, great leadership ability and his integrity, he had always been chosen to have governing positions."
"Now, all of a sudden, he has become a criminal," she rued.
Abdullah was presented before the court two years after his arrest, in September in 2019.
"They only let my sister to attend the hearing and didn't allow my mom to go (inside the court room)," she said.
To fight for their father's release, Yuksel and her brother have now hired a human right's attorney Michael Polak, who leads "Justice Abroad" – a UK-based legal firm which claims to "provide unparalleled support, advice, guidance, legal, advocacy, and investigatory service".
"My mom saw my dad in handcuffs being taken to the court and it was the most painful image that she will never forget," said Yuksel.
Yuksel said at the second hearing "Chinese authorities denied my dad's appeal and kept the original sentencing which happened secretly without letting my mom and sister attend the hearing".
"Until now, the court didn't allow my mom and sister to have the court order."
Urging international help to get justice for her father, Yuksel said: "the international community and human rights organizations should put pressure on Chinese authorities to close down the concentration camps and release innocent Uyghurs who were jailed like my father."
Polak is pursuing "all avenues including making applications to the United Nations, its different bodies, calling on politicians to raise Abdullah's case, and bringing my dad's plight to the public attention through the international press and human rights organizations", Yuksel said.
A recent report by global rights activist and journalist CJ Werleman claims on evidence that up to nine million Uyghurs are unaccounted for and allegations that the Chinese authorities plan to kill, incarcerate or convert the whole of the minority population.
However, China denies any cultural genocide of Uyghur community.
China's Foreign Ministry claims that over the past 40 years, the Uyghur population in Xinjiang "grew from 5.55 million to 12 million".
"From 2010 to 2018, the population of ethnic minorities in
Xinjiang increased by 22%. Is there any kind of 'forced sterilization'?" the ministry asked.
"There is one mosque for every 530 Muslims in Xinjiang, a number higher than that in many Muslim countries. Is there any kind of 'suppression of religious freedom'?" the ministry said in a series of tweets responding to US accusations on Uyghurs. "The intention of the US making one vicious lie after another is to contain China's development and undermine China's stability."