Fleeing for their lives, Rohingya Muslims are seeking refuge in Bangladesh where they are fighting diseases and poor living conditions, and a Canadian couple is committed to bringing the Rohingya issue into the spotlight in the international arena
For years, Rohingya Muslims have been the target of communal violence in mainly Buddhist Myanmar, which has denied citizenship to the Muslims since 1982. The Rohingya trace their presence in Rakhine back centuries, but most people in majority-Buddhist Myanmar consider them to be unwanted Muslim immigrants from Bangladesh.
The mass killings of Rohingya Muslims escalated in recent years, and they've fled for their lives, seeking refuge in Bangladesh. However, Rohingya Muslims are not only running for their lives: According to reports, Rohingya women are raped even in front of their children. And the most tragic part is that six out of every 10 refugees are children according to UNICEF.
While the U.N. has described the systematic violence by Myanmar against Rohingya Muslims as possible genocide and ethnic cleansing and calls on the international community to take measures against the "visible genocide" facing Rohingya Muslims in Myanmar, not many states have taken action to protect Rohingya refugees except for a handful of states spearheaded by Turkey.
Helping hand to the Rohingya from Canada
In the darkest hour for Rohingya Muslims, a couple from Canada rolled up their sleeves to do whatever they can for these helpless people whom the world has turned its back on. They try to raise awareness of the Rohingya issue as much as they can with interviews they give to news agencies from around the world.
Fozia and Tahir Alvi are Muslims living in Canada who traveled all the way to Bangladesh to volunteer for Rohingya Muslims living in the refugee camp. The couple spent two weeks among Rohingya Muslims, which was long enough for the Rohingya issue to take a place in their hearts.
Being a family doctor, Fozia Alvi, who was born and raised in Pakistan and lived in the U.S. and Canada, went to Bangladesh to tend to pregnant Rohingya women.
"But what I saw there really shocked and horrified me," said Fozia during her trip to Turkey with her husband.
"The conditions that they are living in were unbelievable."
However, it was not the conditions of Rohingya refugees that shook Fozia to the core: It was the great number of Rohingya children.
"About more than 50 percent of the refugees in Bangladesh camps are children under the age of 16. Some of them witnessed their parents' throats cut. Lots of teenagers were pregnant as they were raped in Myanmar before being able to flee. And now, they were struggling with how to take care of themselves and their babies," said Fozia, describing the difficulties Rohingya refugees face in camps.
But there are vital problems that Rohingya Muslims have to face in refugee camps. It has been reported that due to malnutrition and lack of clean water, children and even adults in refugee camps have fallen ill, and it is feared that an epidemic might break out.
Building camps for the Rohingya refugees
While Fozia tended to the sick, Tahir, her husband, helped build accommodations for refugees in camps.
Tahir Alvi is an engineer who has been living in Canada for the last 20 years. He is currently the president of the Islamic Circle of North America (ICNA), based in Canada, which offers assistance to Muslims in North America as well as relief to Muslims around the world who are in need of help.
As a member of ICNA's relief team, Tahir travels the world to bring a helping hand to those who have been hit by a disaster of nature or men.
After traveling to Bangladesh, Tahir and the relief team helped to build accommodations for refugees.
"At that time it was almost 200,000 people there in the camp," said Tahir, but it is clear in his eyes that he is worried about the people he helped. "I do not know how many are alive now. They don't have any medical facility there or proper food, etc. The Myanmar government is waiting for them to die."
Turkey, always there for the Rohingya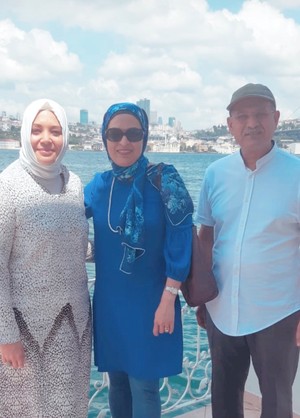 When asked about Turkey's efforts for Rohingya Muslims, Fozia and Tahir agreed on one thing: No other country helped these people who are massacred in front of the world than Turkey.
"Rohingya Muslims are the most persecuted community in the world right now, and they have suffered oppression for more than 40 years", said Fozia, continuing: "And now, their citizenships were stripped away, and they have fled Myanmar after three years of horror. It's a systematic massacre that these people are facing, and nobody is offering to help and actually do something."
However, what Turkey has done and continue to do for Rohingya Muslims is inspiring for Fozia.
"President Recep Tayyip Erdoğan for a long time is an icon not only to me but to all Muslim ummah. When the whole world turned their back on the Rohingya issue, it was President Erdoğan, the Turkish government and the people of Turkey who stood up for them. Erdoğan with First Lady Emine Erdoğan, the only first lady that visited the refugee camps, working hard to raise awareness for the Rohingya cause," said Fozia.
In fact, that is why they came to Turkey. Since the Rohingya cause is close to her heart, Fozia wanted to come to Turkey. For Fozia, other Muslim countries are not doing enough to raise awareness and actually do something to stop the systematic genocide that the Rohingya are facing.
If the whole Muslim ummah, including my home country Pakistan, does half of what President Erdoğan spearheaded for Rohingya, this issue will be solved within minutes," Fozia added.
Humanity in question in Myanmar
Tahir thinks if Muslim countries could unite and stand as one in the international arena, things would have gone in a different way.
"But right now, Turkey is our only hope to solve the Rohingya issue. If President Erdoğan raises enough awareness among other Muslim countries, I believe the Muslim ummah will follow him to solve the problems of the Rohingya," said Tahir.
Tahir strongly emphasizes that what the Myanmar government is doing to the Rohingya people is nothing but genocide. In fact, the report published by the U.N. supports his idea.
"History is not only for books. It is here so that we can learn from the mistakes of the past," said Tahir. Back in the day, when the German Nazis were discriminating and putting Jews in concentration camps, it was happening in front of the eyes of the world, and it did not trigger other European countries to take action until the Nazis occupied Poland.
"A massacre is happening in front of our eyes, and we cannot stop it. When time passes, we will compare these refugee camps where Rohingya people are living, as they have no choice with Auschwitz and the massacre that the Rohingya had to live with to the Holocaust. But it will be too late."
While speaking, Tahir put his finger on an important point: The Rohingya people are not only the issue of Islam, but the entire world.
"This is an issue for humanity. This is clear genocide," said Tahir helplessly.
Source: Daily Sabah