Four(*) terrorists burst into two mosques in Christchurch in New Zealand today (March, 15,2019) and killed at least 49 Muslim worshippers. Calling themselves as new crusaders, Christian terrorists shared manifestos in their social media accounts before the attack. Besides threatening all Muslims, they also targeted Turkey and Turkish President R. Tayyip Erdogan. Manifestos also revealed that they were inspired by former white-supremacist murderers like Norwegian Andrej Breivik.
In addition, they wrote names of ancient kings on their rifles, fighting against Muslims in the past.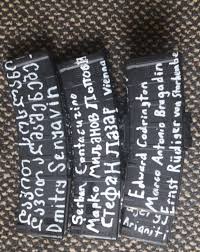 While politicians were expected to send their condolences, Australian senator Fraser Faning, blamed Muslims and insulted Islam.
https://twitter.com/borzou/status/1106451172716621824
Analysts say white-supremacism is fuelled by certain people and instituitions, which have also connections with neo-con and Zionist groups. Among them, Pamela Geller, Robert Spencer and an Iranian born fake imam Imam Tawhidi, are mostly accused of. Moreover, a renown Zionist asked not to disclose names of terrorists.
Do not share the shooter's name.
Do not share the shooter's evil video.
Do not share the shooter's evil manifesto.
Mass killers desire fame and attention. Starve them of it.

— Ben Shapiro (@benshapiro) March 15, 2019
Meanwhile, many Muslim social media users condemned the attack and called for struggle with Islamophobia. A user said 'so-called Muslim terrorists kill Muslims but still Muslims are named terrorists'.
And still we are the" Terrorist "#Christchurch pic.twitter.com/VXWkugTyVW

— Syed Ali Raza Bukhari (@SyedAlirazab) March 15, 2019
*Correction: only one person.