Turkish community in Germany still faces discrimination and institutional racism at every single aspect of life from eduction to justice in Germany. One prominent Harvard-educated lawyer says German judges hand longer prison sentences just for having Turkish names.
Mehmet Daimaguler studied law in prestigious Harvard and Yale in the United States. But he was almost sent to infamous Sonderschule where kids with mental problems go in Germany when he was in elementary school. Daimaguler's German neighbor saved him from being placed in Sondershule. "If you go to Sonderschule, if it says on your diploma that you graduated from Sonderschule, you will never be able to find a job," said Daimaguler in his downtown apartment in the former German capital, Bonn.
The same teacher then placed him in a Haupschule which is sort of a vocational school. Daimaguler achieved the miracle and worked his way up to Gymnasium in order to continue higher education but not all the victims of German institutional racism is as lucky as him. "What has happened to me was almost 40 years ago but even now I get clients of Turkish descent complaining about the same discrimination," said Daimaguler who was born to an Arabic speaking father and a mother with Bosniak roots.
Studies reveal institutional racism is not limited to schools in Germany. Turks face discrimination and racism at every single public institution and service. Most worrisome of them is the judiciary.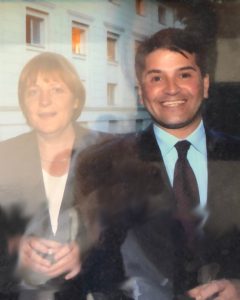 "If you have a Turkish name, a judge would hand you a longer sentence," said Daimaguler to depict the latest state of German justice system. He says Turks are much more likely to end up in pre-trial detentions comparing to German defendants. Himself is also one of the lawyers in terrorist NSU trial, Daimaguler cites many incidents of his own clients whom were discriminated by prosecutors and judges. One specific story he tells is about a successful Muslim businesswoman whom was attacked by a group of Neo-Nazis. One of the attackers pulled her headscarf and stepped on it. Then she was punched several times. "The prosecution threw the case citing that it was the first such defense of the attackers, and I was told that my client may have harassed them," tried to explain Daimaguler with his limited Turkish skills.
The Turkish-descent lawyer also says Turkish community in Germany is partly to be blamed for not fighting xenophobia and Islamophobia. "When there is a Football match or a concert of famous a Turkish singers, tens of thousands of Turks turn out, " said Daimaguler in a warning tone. But he says when a Turkish NGO held a NSU protest in Berlin, only 20 people showed up.
Ahmet Hamdi Sisman
Journalist
Source: Diasporadaily