Biden administration would ask Turkey to host a high level peace talks between Taliban and Afghan government a letter sent to Afghan president Ashraf Ghani by the US Secretary Anthony Blinken revealed. Washington's request would place Turkish soft power in conflict solutions on a global map when Ankara successfully settled several cross-border conflicts through its hard power.  
Afghan Tolonews broke a story on Sunday that the US Secretary Antony Blinken sent a letter to President Ghani and Chairman Abdullah Abdullah presenting four suggestions for Afghan peace process.
The letter said the UN should convene a meeting of foreign ministers and envoys from neighboring Russia, China, Pakistan, Iran, India and the US to discuss a unified approach to supporting peace in Afghanistan. The US envoy Khalilzad should share with President Ghani & the Taliban leaders written proposals "aimed at accelerating discussions on a negotiated settlement and ceasefire.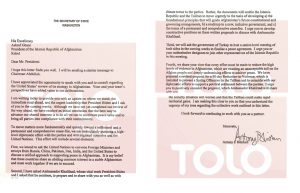 Blinken pointed out in the letter that There is revised proposal prepared for 90-day reduction in violence "to prevent a spring offensive by the Taliban…to coincide with diplomatic efforts to support a political settlement between the two parties.
The US Secretary of State tells President Ghani in the letter that the United States has not ruled out any option regarding Afghanistan. "We are considering the full withdrawal of our forces by May 1, as we consider other options," he wrote in the letter.
The letter also said the Biden administration will ask Turkey to host a senior-level meeting of both sides in the coming weeks to finalize a peace agreement. Blinken urges Ghani or his "authoritative designees" to attend the meeting.
Turkey has in recent years has become a major player in conflict solutions through its hard power in Libya, Syria, Caucasus and elsewhere but Biden administration's decision to request Turkey to host such meeting puts Ankara on map in global security matters.
Joe Biden has yet to call Turkish president Erdogan after being elected as the US president which raised questions about the future of Ankara-Washington relations in light of Biden's pre-elections comments that he would work with "elements" in Turkey to topple Erdogan. But the recent intention of Washington to invite Turkey as a host country in Afghan peace talks have been interpreted by experts as Washington being aware of Turkey's important role as a NATO ally.