Residents of Istanbul protest Mayor Ekrem Imamoglu's anti-environment decisions. The last act enraging people was to remove roadside plants and flowers, and replacing them with graffiti. While the municipality defends itself by arguing that it is costly to take care of flowers, people think that it makes the city ugly. Some Istanbulites complained that Istanbul will return back to its old dirty and unlivable days.
People had complained about water scarcity in early 1990s when water was supplied by trucks. Another problem was dirty shores of Istanbul. Water flowing from sewages was polluting the sea while the head of Istanbul's Water Authority was on court for corruption. Salih Öztürk, an Istanbulite, says the conditions that made Erdogan win municipal elections in 1994 are available now. He says he saw sewage pipes dropping dirty water into the sea in several districts.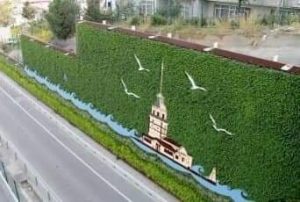 On the other hand, Imamoglu is maintaining a campaign against Kanal Istanbul, a water channel planned to be built for the crossing of ships. While Imamoglu claims that the channel damages environment, his anti-environmental decisions are seen as hypocritical by Istanbulites.