ISTANBUL (Bernama)– Istanbul's Asian side does not get the visitor attention it deserves, but what it lacks in attractions is compensated by the incredible views of the city it offers.
Istanbul's major tourist places are located on the European side, so when I ended up on the Asian side, on the Çamlıca Hill to be precise, coming across many Arab tourists was a surprise.
Exploring the Asian side was not a matter of serendipity, but it was rather by design; a friend decided that I must see this less touristy part as well.
Those who do venture across the Bosphorus to go to the Asian side after visiting the Sultanahmet Mosque, Ayasofya, Topkapi Museum and other popular attractions are able to have a better view of Istanbul.
Average tourists do not go as far up as Çamlıca Hill, recognisable by what looks like a plantation of telecommunication towers.
How come so many Arab tourists know about the place, I asked my friend.
Their tour guides must have told them, he informed me.
Getting to the hill is not a hassle even if you are not so familiar with the area.
Your reward is that you become more aware of the contours of this stunning city, which holds unfathomable treasures for visitors.
EXHILARATING SIGHTS
There is a restaurant housed in an Ottoman-era mansion on the hill and eating there would tell you a thing or two about a magnificent culinary culture.
Busy visiting mosques and museums or enjoying the diversity of Turkish cuisine, typical tourists in their limited time are often not able to experience the exhilarating sights from different angles.
The newly-built Çamlıca Mosque, with its six minarets, is now the biggest attraction.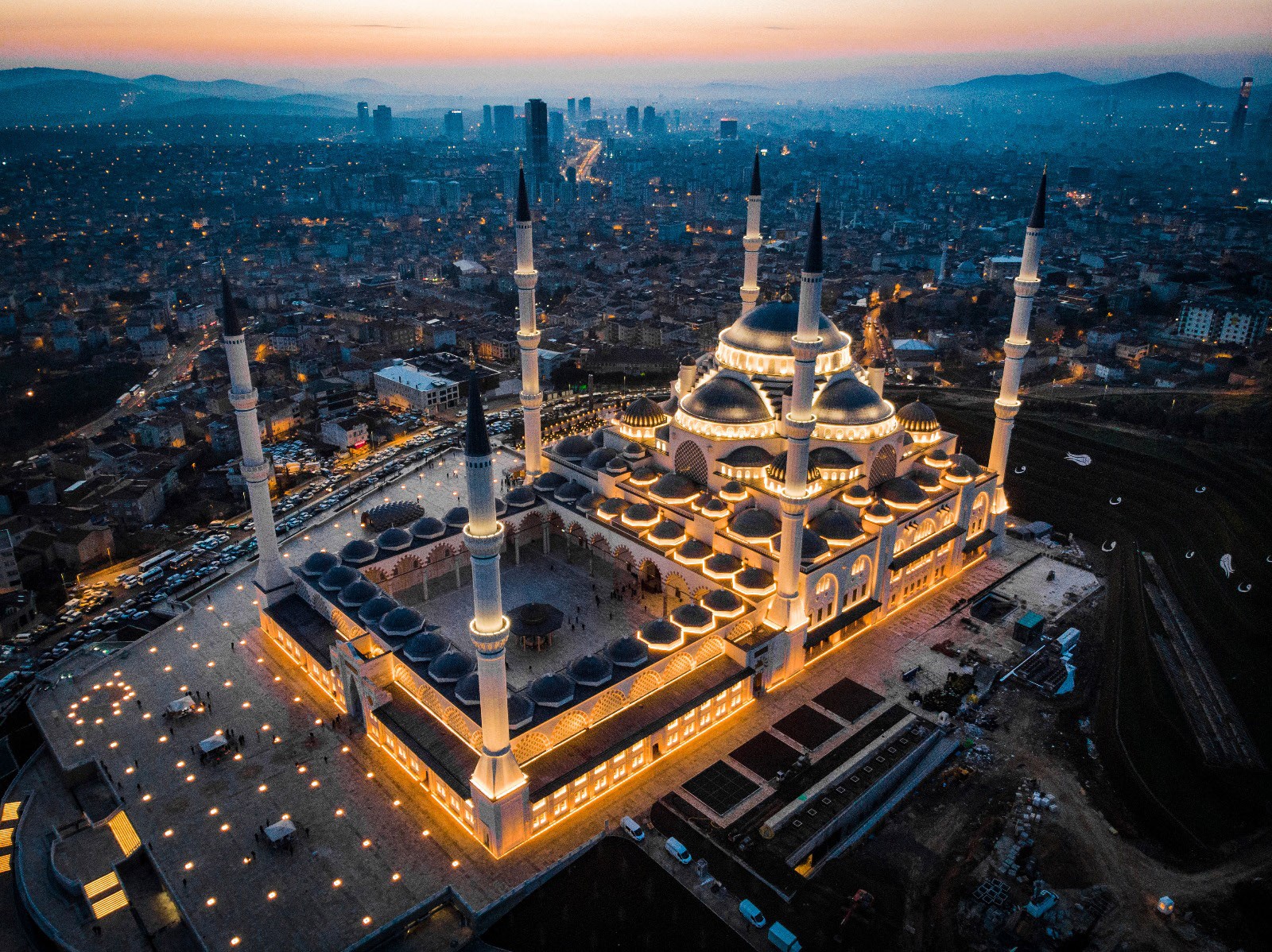 Designed by two female architects Bahar Mızrak and Hayriye Gül Totu, it can be seen from all major locations.
Built in the Ottoman-Seljuk style of architecture and inspired by the great architect Mimar Sinan's work, Istanbul's largest mosque has space for more than 60,000 worshippers.
President Recep Tayyip Erdoğan had closely watched the progress of the project since its foundation was laid in August 2013 to its formal opening this year.
The mosque complex includes a museum of Islamic art, a library, an art gallery and conference hall.
It has the world's biggest finial, weighing 4.5 tonnes and measuring 7.77 metres in length.
Its four minarets are 107.1 metres tall, symbolising the 1071 Malazgirt victory of the Seljuks over the Byzantine army.
MARTYRS MEMORIAL
Also on the Asian side, you can visit the monument that pays homage to the 249 people who died resisting an attempted military coup in July 2016.
The domed structure is constructed at the entrance of the July 15 Martyrs Bridge, formerly known as the Bosphorus Bridge.
The coup bid by elements linked to US-based Fethullah Gülen's terror group, known as FETÖ, was foiled as the Turkish people fiercely fought the putschists.
In the words of architect Hilmi ?enalp: "The dome represents a life of eternity for martyrs. It is composed of geometric arms which are a tribute to unity and togetherness of the nation against the coup."
VIEWS OF RUMELI FORTRESS
This chapter of modern Turkey is as remarkable as many other periods of 1,000-year-old Turkish history.
A special spot for enjoying sweeping vistas and taking pictures of the Bosphorus is Otağtepe Park.
Spare time to go there and you will relish every minute of your stay there.
Across the straits, you can have a lovely view of the historic Rumeli fortress.
On the European side of the city, visiting the mausoleum of Eyup Sultan, a companion of Prophet Muhammad (peace be upon him), gives one a glimpse into a splendid past.
Exploring the Eyup Sultan district's history requires both reading and walking.
Climb the nearby hill and have spectacular views of the Golden Horn while enjoying Turkish coffee or tea at one of the cafes there. To dive more into history, go to Pierre Loti Cafe, named after the French poet-author Pierre Loti, who used to visit the place.
Accumulate more memories of Istanbul by visiting a public park close to the Bosphorus.
Try to go to Emirgan Park, one of the most beautiful parks with flowers, colours, amazing landscaping, and Ottoman-era mansions that have top-class restaurants.
If you do not have enough time to explore too many locations, you can still get familiar with the gorgeousness of this city by doing what most tourists do: take a Bosphorus boat cruise.
Istanbul will make a lasting impact on you, whichever way you look at it.
Edited by Rema Nambiar
Front Picture By Hasan Çoplan
Source: BERNAMA