A ground report from the Valley in the weeks following lockdown.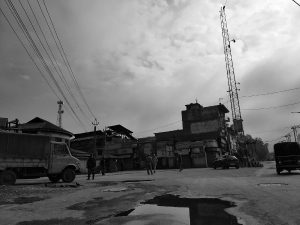 It is the afternoon of 15 August 2019. We sit numb in our rented apartment in Delhi. While mainstream Indian media busies itself digging the wounds of Kashmir, barely any news has been allowed to escape the mountains since 5 August 2019.
We haven't been home in a long time. "What is the cost of making it home?" a friend asks. Nobody really has an answer. Whatever the cost, we decide to go home – to see what is really happening.
The next day, we take the morning flight to Srinagar. Over six days, we travel about 280 miles across Kashmir, covering five districts. Our journey – in parts made on foot, sometimes hitching a ride in ambulances, but mostly in private cars of friends, acquaintances and complete strangers – is a personal one, in search of truth and meaning.
***
On 5 August 2019, the home minister of India, Amit Shah, rose from his seat in Parliament to make "important announcements" regarding Kashmir. Everyone paid attention. The events that preceded his speech were telling: people in Kashmir were asked to buy essentials in bulk, colleges and universities were ordered to shut down. Non-Kashmiri students, labourers, tourists and Amarnath Yatra pilgrims were asked to leave Kashmir immediately; buses and flights had already been arranged.
The Bharatiya Janata Party (BJP) had been preparing for this moment for a long time. It is less a political milestone and more a fulfilling of an ideological commitment, for the party, which won an absolute majority in the 2019 elections and has since shown little regard for democratic process.
The restoration of "Hindu pride" is at the heart of the Hindu nationalist project in Kashmir. According to Hindutva ideology, taking control of Muslim lands – just as the 'Muslim invaders' once did when they ruled over the Hindus – is part of a broader civilisational quest. The abrogation of Article 370 of the Indian Constitution, that gave Kashmir its special status, was, therefore, one of the key nationalist issues – together with the construction of the Ram Mandir at the site of the Babri Masjid in Ayodhya – for which the BJP and its ideological head the Rashtriya Swayamsevak Sangh (RSS) have fought.
In a historic speech delivered in 1952, founder of the Bharatiya Jana Sangh – which later became the BJP – Shyama Prasad Mukherjee declared: "Ek desh mein do vidhan, do pradhan aur do nishan nahi chalenge" (One country can't have two constitutions, two prime ministers and two flags). Ek nishan, ek vidhan, ek pradhan – one flag, one constitution and one prime minister – has since been the driving slogan of the Sangh Parivar in relation to Kashmir. With the abrogation of Article 370, some commented that Mukherjee's dream had finally been realised.
On 4 August 2019, a day before Shah's announcement, after the last non-Kashmiri civilian was vacated from the region, the government of India pulled the plug from Jammu & Kashmir (J & K). Landlines were blocked, internet connectivity snapped, mobile networks jammed, cable television shut down, and newspapers taken out of circulation. The FM radio played songs from Delhi on loop. Additional companies of the Indian paramilitary were deployed to ensure everything happened as per plan and force was used in any instance of resistance. Kashmir was effectively under siege, but the government had already employed its go-to line – that Pakistan was planning a terrorist attack on the yatra. Since the threat purportedly came from Pakistan, everybody in India was forced to fall in line – the media, academia, and civil society.
People in Kashmir sensed what was coming. The talk of the possible abrogation of Article 370 was already on the streets. But when Mr Shah announced the proposal for the amendments to Article 370, very few in Kashmir knew what was happening in New Delhi. Not only were they subjected to a complete communications blackout, they were simultaneously barred from moving out of their houses.
***
Minutes before landing in Srinagar, the summer capital of Indian-administered J & K, the airplane attendants urge us to lower the window shades. "Because of the current situation in Srinagar the government has ordered to lower the window shades till we land," an attendant tells us upon enquiry.
We arrive at Srinagar International Airport on the first flight of the day. Photography is not allowed here because it is a defence airport. The Indian army and the Air Force are stationed inside. Outside, no buses are available. We are lucky; a friend who was on the same flight is expecting her brother. In a few minutes she spots him and we are offered a lift to Humhama. We are supposed to deliver some medicine to a friend's asthmatic father in a village nearby. However, we are not allowed to move in that direction, so we begin walking towards Srinagar.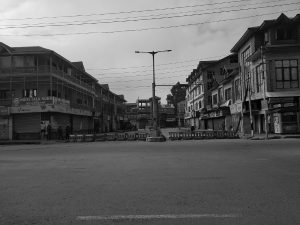 Indian paramilitary personnel are the only other people on the road. We walk some distance until an auto rickshaw pulls over. "I went to the airport to call my daughter. She studies medicine in Bangladesh. I haven't been able to talk to her since the 4 August," he tells us. He has been going to the airport for days in the hope of finding a telephone. "People in the city said phones are working only at the airport. Do you have any idea?" he asks us. We do not.
He drops us at an intersection leading to Varmul in the north of Kashmir and Islamabad (Anantnag) in the south. It is a Friday; restrictions are more stringent and entry into Srinagar city is strictly regulated. Going in would require walking past countless security checks, being subject to frisking and random questioning, and could even lead to detention, we are told. Instead of risking that, we decide to go in whichever direction that we find a cab to take us. We find a cab that takes us south and we reach Islamabad by lunchtime after crossing a number of military check posts erected along the highway, and past dozens of convoy trucks moving into the city. Shops in Islamabad are all closed. So are the banks. The entire area is acutely militarised. There are close to a dozen paramilitary personnel at the entry points of every street. With them are also about two or three J & K police personnel. None of the policemen are carrying a gun. They have only been given batons.
The government in Delhi was anticipating a rebellion within the ranks of the J & K police force. When Amit Shah walked into Parliament on 5 August, he was spotted carrying a folder. A visible sheet of paper from the folder carried some points of order. Point number 15 read: "Possibility of violent disobedience in sections of uniformed personnel".
Concertina wire had effectively remapped the entire town of Islamabad. We are allowed entry at one point, but not allowed to exit from the same point.  The situation in Srinagar, according to reports, is worse. Regarding the extent of blockade and surveillance there, the Associated Press (AP) reported: "Amid the labyrinth whose entry and exit points are changed frequently, people find themselves disoriented in their own city, and struggle to memorise its frequently changing street map".
We produce our air tickets every time we are stopped by the paramilitary troops. At Khanabal Chowk, Islamabad, a moustached member of the Central Reserve Police Force (CRPF) hurls abuse at us as we walk past a barricade. There is aggression in his eyes. We pass without engaging.
We then walk around three miles to reach, unannounced, at a friend's doorstep. His parents look puzzled. Since it's a Friday, the paramilitary forces are expecting protests. People are not allowed to pray in mosques where congregations can become large enough to challenge the forces. Hours after Friday prayers, restrictions are eased. We leave the house and try speaking to the people.
A few pharmacies adjacent to the hospital have their shutters half-open. A chemist from one of these shops says he has run out of psychiatric drugs. "People have been frequenting my pharmacy more these days. They complain of depression and sleeplessness" he says. "We have been lucky," remarks an elderly man in his 70s from the neighbouring shop. "Our victory in this has been [that] we didn't let them kill anyone of us". The fight against India, he says, is now going to be a long one "and we need people to live for that."
Almost all political leaders in Islamabad have been arrested. Those who belong to pro-India political parties are placed in the local, government-run guesthouses called Dak Bungalows. Many others, including former members of the legislative assembly, have been shifted to Srinagar. We are told that their families have been denied access.
The resistance leadership and civil-society activists have either been sent to jails outside Kashmir or to district jails across Kashmir. The young men who are routinely rounded up on charges of stone-throwing are mostly kept in cramped rooms in local jails and sub-jails. Their numbers are not known.
The government has said they don't have a centralised data system to know the exact number of arrests and detentions. According to a recent AP report, numbers could be as high as 4000 or more. "If you are popular in your friends' circle, you are being picked up," a radio jockey tells us while talking about the mass arrests.
"The police don't want anyone with a modicum of consciousness left free," says a political activist who is on the run. He has been evading arrest by continuously changing his location. "I don't go home. I have been spending nights at different places; sometimes I crash at friends' houses and on other occasions I surprise my relatives," he says.
It is close to ten in the night. We walk miles through the meandering lanes of Bakshiabad to meet a prominent local journalist, to gain a better sense of the impact of the communications blackout. "I have not been able to file a single story since 4 August. It isn't possible to go out and report," he says.
The district administration has also largely denied local journalists a movement pass. "Since the phone lines are down I can't reach my editor. I'm not sure if my organisation has been printing anything these days," he says. It was only two days later, when we reached Srinagar, that we found out Greater Kashmir – the newspaper he worked for – was printing only two pages, and mostly carrying government press releases as news. Half of the last page was dedicated to informing people about the cancellation of wedding ceremonies.
***
It has been raining incessantly since midnight. We convince a friend that the highway is clear for military convoys, and that private cars are also allowed. He agrees to drop us at Vejbeour, the hometown of former Chief Minister Mehbooba Mufti. Two military trucks are stationed at the entry point. Some locals sit tentatively outside a closed shop and observe us passing through. We reach a small colony in the heart of Vejbeour in search of a journalist who works for the local English daily, Rising Kashmir, and a professor. We find the professor.
There is a wedding scheduled in two weeks, but the arrangements have been cut short. The professor's younger brother is getting married. "There will be no wazwan," he tells us with obvious disappointment. "We just want to take care of the formalities." August-September is the wedding season in Kashmir and hundreds of wedding ceremonies have had to be cancelled.
"The scrapping of Article 370 wasn't a surprise for Kashmir. It did not happen abruptly. The state administration can claim it was following orders, but that is an abasing defence even by its own mediocre standards. They issued orders that created war-like hysteria in the entire region," the professor explains.
On the evening of 17 August, we reach Mahind – a small village some five miles south of Vejbeour. Every evening, the menfolk of this village gather at a place they call "assembly", near the local graveyard. Such assemblies are a common feature across Kashmir in times like these. People sit in shop fronts and discuss the political developments of the day. References are generally made to news broadcasts from the BBC, Al Jazeera, and Voice of America.
As we get out of the car, a group of men are facing the graveyard making dua with raised hands. There are six marked graves in front of them, separated from the rest of the graveyard. A collective epitaph details the gory story of a massacre. On 19 January 1994, six members of a family in the immediate neighborhood were burnt alive by the Indian military for allegedly hosting a dinner for militants the day before. Three among the massacred were children. The International People's Tribunal on Human Rights and Justice in Kashmir (ITPK) and the Association of Parents of Disappeared Persons (APDP) in their 2015 report, titled 'Structures of Violence – The Indian State in Jammu and Kashmir', listed this incident amongst 49 cases of mass violence perpetrated by the Indian armed forces between 1989 and 2006.
"You have come from the 21st century," a banker says casually to us.
Slowly, a small group gathers around us, eager to find out what is happening in the outside world. The Indian state has cut off all news and information. People are completely unaware of what is happening around them. They have no news from adjacent villages, let alone from around the world.
***
In the wee hours of the next morning we leave for Srinagar. We stop at the residence of a prominent human-rights defender, Khurram Parvez. He is also largely unaware of the situation in and around the city and is forced to depend on conjecture. "I don't have any news of my colleagues," he says. "People have been summarily detained and I am not sure who is out and who is not." Khurram was previously booked under the Public Safety Act (PSA); the order was later quashed after an outcry from international human-rights organisations.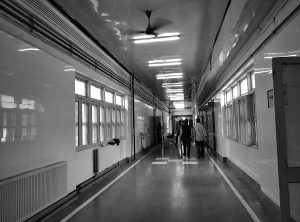 We walk through an eerie, graveyard-like, silent city centre to reach Shri Maharaja Hari Singh (SMHS) Hospital. The hospital has a surprisingly low number of patients. The paediatric ward is absolutely empty. Ward number 8, where pellet victims are treated, has only four patients with pellet injuries. "We came here only this morning, they will discharge us by evening," one of the patients tells us. "They are not keeping pellet-hit people here for too long," an attendant says.
The government has prevented reporters from gaining real-time access to data and information. "Each day, five to ten patients are brought here," a paramedic tells us, wishing not to be identified. "Keeping them here for a night or longer attracts attention. The government does not want that," he explains.
On our way back to the city centre, we run into a researcher who works for the Jammu and Kashmir Coalition of Civil Societies (JKCCS). He doesn't have access to information either. "Nobody here is ready to talk. We are living under an emergency where anyone can be arrested without charges," he says, as we keep walking towards Kashmir Press Club.
The derogation of Articles 370 and 35A has only cemented the fears Kashmiris have always grappled with. This fear and anxiety has tricked down even to the children. "Soun parun gou zaaye" (Our studies are of no use now), says a ten-year-old, walking outside the hospital gates with her parents, when she hears our conversation about 370 and 35A. Her fears are not completely unfounded. The abrogation of Article 35A means that non-locals can buy and own property in J & K. This, many argue, is an attempt by the Indian state to change the demographic composition of the place by enabling an overwhelming influx of non-Muslims.
We hear people drawing parallels between Israel and India employing similar tactics of repression, state violence and demographic change. "Yath gaschi waen tei, Hindustan banayi waen Israelek paenth yati colony. (This is moving in the same direction. Like Israel does in Palestine, India is now going to have settler colonies here in Kashmir)," a trade union member remarks. There have also been reports of Israeli army contractors possibly being involved in setting up a large surveillance network in Srinagar.
As we continue, we encounter a few civilians walking across the road. They are moving with a strange haste. "Where are you heading?" the researcher asks one of them. "Gobra, majbori chem. Nat kyati nerha ghari." (Son, I have to attend an emergency. Why else would one leave home these days?) the old man says and keeps walking.
***
At the Press Club, journalists have just started coming in. We meet several reporters there who tell us about the difficulties of reporting in the present situation. "Downtown is out of bounds for us,"  says a reporter who works for a New Delhi-based online portal. "How is the press in India reporting on Kashmir?" another one asks us. "Since the clampdown, I feel I am the most uninformed person around."
We come across three local newspapers printed today. They are only carrying government press releases. We turn the pages and find the editorial of the day to be on science and the natural environment.
Kashmir is familiar with a particular kind of 'parachute journalism', where selected reporters are flown in to report a story the way the government wants it to be reported. Unjustified curbs on the media are also not new, and are put in place whenever the Indian state wants to prevent the truth from coming out. This time, however, the preparations have been more meticulous. Months before, the editors of two leading English dailies – Greater Kashmir and the Kashmir Reader – were questioned by the National Investigation Agency (NIA) about stories and opinion pieces their newspapers published in 2016. They were also accused of being part of a terror-funding network. In addition, a blanket ban on government advertisements in the newspapers was enforced in a bid to hurt the newspapers financially. All this was done to force the two media organisations – and, by extension, others – into silence.
As the day progresses, we move towards Batmaleun – arguably Kashmir's busiest location. There we hope to find someone to give us a lift.  There are no hawkers, no vegetable sellers, not even the sound of bus conductors. We are lucky to find a cab. "We were at the hospital with a patient from Varmul and now we are going back. You are not going to find any other cab here," the man sitting in the front seat tells us, while offering us a lift.
We reach Varmul at two in the afternoon. We look for all the places we know, to find something to eat, but the market is shut. Even pharmacies are closed. We walk across the cement bridge over Jhelum to reach the Old Town. We find that no one is allowed to move in or out of this congested locality. This siege, however, isn't unprecedented for the people of Old Town. For decades, this has been the centre of resistance in all of Varmul town.
We wait on the Varmul-Handwour Highway for anything that can take us to Peraspore, a small village in Rafiabad. Around an hour later, an ambulance stops after people wave at the driver. Close to fifteen people hop on, including the three of us. Most of these people are patients, returning from clinics and hospitals after failed attempts at seeing their doctors.
As we get out of the ambulance at Peraspore, a young man shouts at us: "Hey you are home, everyone is so worried here". We assume he is pulling a prank on one of us, Basharat. We continue to walk on the road leading to the village, without acknowledging him. But every person we pass greets us with an unnecessary delight. There is something we don't know.
The day we left Delhi, Basharat's maternal uncle had called him on this cell phone. Not being able to get through, he had called Basharat's sister who had informed him that Basharat would be home by evening. When we hadn't reached even after three days, the entire village had assumed the worst.
In Kashmir's complex political spectrum, Peraspore is a paradox. It has always been pro-India and voter turnout during assembly elections has been as high as 90 percent. Now, there appears to be a clear shift: "In our village, Pakistan is now a compulsory subject, just like English language in schools," a young person remarks. This change of political mood is telling. From the youngsters on a volleyball field in the village we hear about atrocities being committed by an Indian army officer stationed at the Watergam army camp.
The fight for freedom is a fight for space. In Kashmir, the control of streets is an indicator of freedom. If people control streets, by way of simple movement or protests, they are free. The Indian state has always tried to position its troops at locations which make the nearby streets easily accessible to them, more accessible than the streets are for fire response, emergency and health services. In times like these, the Indian army, and other arms of the security grid, demonstrate their control over the streets through the perpetration of absolute violence on the locals. Most of the youngsters we talk with at the volleyball field in Peraspore have remained confined to their village for fear of encountering security officers. We decide to visit the adjacent village of Chijhoum to find out more. We meet close to a dozen people who tell us that an Indian army officer had got into a fight with a local police officer for allowing a biker to pass through the roadblock. "He also beat up one of the escorts of the local SHO [station house officer]," says a shopkeeper sitting outside his shop. "The escalation was eventually prevented after the army officer was transferred to some other place," a district administration officer informs us.
There have been credible reports in the international media of fights between the J & K police and Indian soldiers after some of the local police forces were disarmed. Over the years, the J & K Police has been used as a counterinsurgency force, leading encounters with militants and responding to the civilian protests in 2008, 2009, 2010 and 2016 that resulted in hundreds of killings and injuries, and thousands of detentions. The latest move by the Indian state has left them feeling 'dispirited' and unwanted. "At the end of the day, we neither belong to our own nor are we trusted by higher authorities," an officer was quoted as saying to AP.
The next morning we ask a friend to drop us at Varmul town where we meet a senior journalist. "I haven't been able to report anything since the clampdown and I am feeling suffocated," he says with a hint of anger.  In today's Kashmir, the distinction between pro-resistance and pro-India politics has ceased to exist and "Everyone is banking on Pakistan."