The headline of this article should soon be made by some western media since they have been paranoid about labeling pretty much everything pro-Erdogan unless unconditional opposition is shown.
Istanbul underdog with fan groups known for their support of president Erdogan, Fatih Karagumruk, made it to the Turkey's top football league while Basaksehir whom has been labelled as pro-Erdogan by the Financial Times back in 2018 won its first-ever Super League title.
Karagumruk was promoted to Turkish Super Lig next season after defeating Adana Demirspor, a southern team with socialist fan-base on Thursday in Ankara. The team will be the sixth Istanbul side to compete in the Super League after Fenerbahce, Galatasaray, Besiktas, Medipol Basaksehir and Kasimpasa.
Karagumruk is located in predominantly conservative Fatih district of Istanbul where president Erdogan enjoys large constituent base. Also, fan groups of the modest Istanbul team have been reportedly been siding with Erdogan. Those facts would be enough fir Turkish Super League's new competitor to soon be labeled as pro-Erdogan by the western media.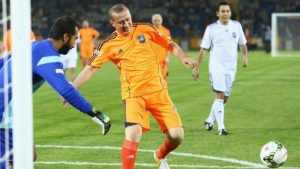 Meanwhile, Basaksehir became the 6th ever Turkish football club to claim the Turkish title this year. Basaksehir was declared as pro-government by the Financial Times in 2018. Basaksehir's successful management which gathered talented group of young players under a promising coach have been hailed by sports authorities but apparently that was not enough for Financial Times to recognize a remarkable success. FT considered Basaksehir as the latest step of Erdogan's policy to alter the Turkish society. "It is a total paranoia. A lot of football players, club owners, coaches in Europe get together with the government officials but that does not make those European teams pro-government," said Yasin Eken, an Istanbul-based sports correspondent.
Ankara-based correspondent, Ahmet Sisman says that western media has been too politicized that is why they assess everything from political perspective. "When it comes to Turkey, everything is either black or white for the western media. Culture, sports, business vs something is either pro-government or not. They politicize every subject than blame the government for politicizing the society," Sisman reiterated.