Founded in 2016, Turkey's Teyit.org website probes the authenticity of photographs and stories that circulate online. It has debunked hundreds of fake information over the years but ignored the most circulated fake stories by Turkey's relentless opposition. Facebook's Turkey fact-checking partner Teyit now faces growing criticism of partisan attitude.
"After Teyit was established, we strived to prevent people from consuming misinformation," said the founder Mehmet Atakan Foca during one of his interviews. Teyit kept this promise and corrected several fake claims online but when it comes to most notorious fake news circulated by Turkey's opposition, the fact-checking platform kept its silence despite mounting calls to take action.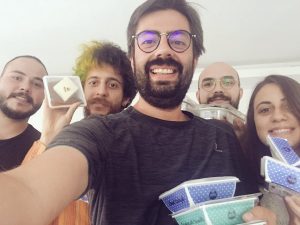 As the whole world struggled to stem the spread of coronavirus, Istanbulites had their own share of the issues. Istanbul's main opposition CHP-run municipality dramatically cut back on number of city's mass transportation on the pretext that passenger numbers were down due to strict lockdowns. The decision caused severe density in buses and subways.

An image taken inside a packed city bus in Istanbul on early morning of March 29th, 2020 went viral on social media. Several Istanbul residents outcried the fact that crowded mass transportation in Istanbul was endangering public health as it provided a fertile ground for the coronavirus to spread since it was impossible to keep social distance. Istanbul mayor Ekrem Imamoglu and his senior aide Murat Ongun harshly reacted to the photo labeling the incident as an organized action of Erdogan supporters on city's administration. Mayor Imamoglu and his senior aide Ongun attacked the passengers on that bus several times calling it "organized evilness." Most prominent pro-opposition journalists have also accused the commuters for being trolls of governing Ak Party.
Imamoglu administration pressed charges against those commuters claiming they entered the bus in masses to tarnish the image of his administration but prosecution investigation found out that Imamoglu's claim that passengers were organized was false. Imamoglu's aid Ongun later had to admit that they wrongly accused the commuters. The incident turned out to be one of the most controversial topic in the early days of the pandemic. Teyit, however, preferred not to get involved as its evaluation could save the reputation of dozens of Istanbulites. Mayor Imamoglu had even fired the bus driver for not recounting his administration's version of the story.
Journalist Kenan Kiran has been tirelessly calling on Teyit to disapprove Imamoglu administration's accusations about the incident for 11 months. Kiran has indeed called on Teyit to investigate several other scandalous news involving Turkey's opposition but has failed to get any reactions back so far.
Turkish people were subjected to perhaps the most notorious fake information of all times on February 1st. A video shared during student protests at Bogazici university claimed that police ordered students to "look down," has been viewed nearly 6 million times. It became the most watched social media video of all times in Turkey. Leftist Yol TV who originally shared the fake claim through vague audio that police was ordering students to look down backed up and admitted that police never gave such order. Police has also released its own video in which a better version of the sound clearly proved otherwise. However, Teyit preferred to talk to a protestor and continued with the debunked accusation.
The fake claim created a revived anti-government momentum as "we will never look down" became the national anti-government slogan.
The fact-checking site has also never reviewed blatant fake news of anti-government Fox Haber, Turkish affiliation of Fox network. A recent news on Fox Haber claimed farmers never received government-promised subsidy during coronavirus pandemic. It was later turned out that that the man in the news has indeed received the subsidy but Teyit once again turned a blind eye to a blatant fake news as its coverage would prevent further circulation of the fake news on social media.   
Teyit is Turkey partner of Facebook for fact-checking and the US social media giant limits or prevents the circulation of information on its platform based on results of Teyit's investigations. Facebook has so far paid over 750 thousand dollars for its work as a partner. The platform has received funds from several other western institutions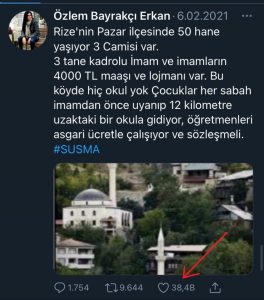 Twitter is the main source of false claims traveling social media in Turkey, Teyit founder Foca said in one of his interviews. Twitter has been flocked by Turkey's ardent anti-government circles. Dozens of fake videos and informations framing the government and conservative circles have gotten tens millions of circulations over the years. Most recently, an image on Twitter claiming there are three mosques in a small Turkish village but no school received nearly 100 thousand likes. The fake information proved how anti-government circles are overwhelmingly subjected fake information in Turkey.