Turkish state TV TRT World has obtained a document indicating that he UAE is attempting to lobby Washington to intervene in Libya and to help turn the tide against the UN-backed government and its main backer, Turkey.
In the e-mail message, the UAE's Ambassador to the US, Yousef al Otaiba warns US officails that "Unless Turkey's actions in Libya are checked, this could easily go from bad to worse..". While Otaiba is trying to persuade the US government, or military, to intervene for the sake of Egypt's safety, he also uses the Muslim Brotherhood as an excuse to convince US officials. The message is interpreted as one of the UAE's new attempts to put another country (Libya) into turmoil and distort Turkey-US relations.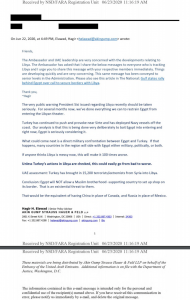 The UAE has been struggling to overthrow the UN-recognized government through supporting renegade General Khalifa Haftar. In addition, the MB that the UAE is hostile to is known for its peaceful and pro-democracy stance. On the other hand, Al-Sisi, who is supported by the UAE, toppled down Mohamad Morsi in 2013 with a military coup. Analysts say US administration will hardly follow footsteps of the UAE as Haftar has proven to be an unreliable partner. In addition, Sisi's rapproachment to Russia is harshly criticized in Washington.