Umut Karagoz, main opposition CHP member from Maltepe district of Istanbul allegedly raped a 23 years old fellow member Z.Y. in the bathroom of a cafe in Istanbul on Thursday. But that turned out to be just the tip of the iceberg in the ensuing scandals in Turkey's embattled CHP. The arrest of the alleged rapist encouraged other female victims within the party to come forward and their stories exposed an high level cover ups of series of intra-party sexual harassments.
The alleged rape of 23 years old Z.Y. by his male co-member Karagoz was kept secret by CHP's Istanbul head Canan Kaftancioglu for three days. Turkish media later revealed that the alleged rapist was a close associate of Kaftancioglu. The rape only had to be made public after former MP Baris Yarkadas broke the details of the attack on his Twitter account which had over one million followers. According to Yarkadas's tweets, Party officials later informed him that the rapist Karagoz was expelled from the party. However, Kaftancioglu took it personal and accused Yarkadas for turning the incident into a show.  "If me reacting to a sexual harassment is showing off why do you attend other sexual harassment activities," asked Yarkadas in one if his tweets. Yarkadas blamed Kaftancioglu for abusing her own sexual identity for her political gains in every incident.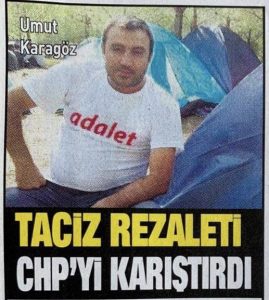 The alleged rape and Kaftancioglu's attempt to cover it, turns out, was only tip of the iceberg in scandal-ridden leftist CHP as other women victims have come forward after being encouraged by Yarkadas's determined stand. A former female member of CHP from another Istanbul district, Ozlem Hanelci, told her own story without hiding her identity under Yarkadas's tweets. "I have been sexually harassed by two deputy Istanbul heads. I was lynched and threatened for coming forward but Kaftancioglu just stayed silent," said Hanelci in her tweets. It's impossible to be a female politician in CHP, she decried.
Former MP Yarkadas also exposed that another sexual harassments took place in Istanbul among the party members recently. Yarkadas challenged Kaftancioglu by saying she did not respond to dozens of whatsapp messages sent to her by an official about the sexual harassment.
Turkey's embattled main opposition CHP may have gained a moment after the municipal elections in 2018 by winning Istanbul and Ankara after 25 years of conservative run. However, CHP has rapidly been tarnishing its own image since then. Its controversial Istanbul mayor Imamoglu's infamous temper issue has been one of the reasons for the recent unpopularity of CHP. Imamoglu has recently threatened several taksi drivers whom had booed him for his decision that would harm current taksi license owners. The party head Kilicdaroglu whom has been known for his gaffes also insulted teachers in the country on National Teachers' Day by calling those whom support governing Ak Party "sold outs."
There has not been any official statement from the party about the rape or the other harassments among party's ranks. Istanbul head Kaftancioglu has not yet responded to former CHP MP Yarkadas' reaction either.