Reuters has posted a tweet on Thursday for a piece explaining how airline industry is projected to lose $157 billion in 2020 and 2021 but later deleted the tweet after mounting reaction from Turkish people. The reason for the instant and large reaction from the Turks was Reuters' deliberate choice of picture for the tweet.
Reuters used a picture of an airplane belonging to Turkish Airlines which hit the nerves of thousands of Turks on Twitter. "We could have asked what made you choose among hundreds of international airline companies, a photo of a Turkish airliner for this article, but you taught us over the recent years that it is only yet another example of your apparently incurable prejudice against anything Turkish," said Turkey's ambassador to Washington, Serdar Kilic on Twitter.
The reason why Kilic and thousands of other Turkish Twitter users reacted to Reuters was the western media have been notorious for using Turkish Airlines picture in every single negative news about the industry. This has been done dozens of times before.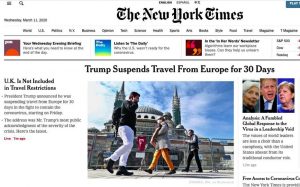 Western media's deliberate choice of using pictures of anything Turkish is not limited to airlines industry. Several western news outlets have used photos from Turkey in news about worsening pandemic conditions even though the topic had nothing to do with Turkey. Back in March, CNN and New York times used pictures of Istanbul for the news about Coronavirus pandemic that has nothing to do with Turkey. New York Times later was compelled to make an explanation about the picture saying it was an poor choice of  the editor and taking down the picture. Turkish Foreign ministry has also reacted on Twitter to CNN and New York Times for using pictures from Turkey as a cover for distressing pandemic news.
Turkey's flag carrier Turkish Airlines was one of the few companies in the industry that has actually managed to grow during the pandemic. The Turkish Airlines subsidiary Turkish Cargo increased its direct cargo transportation destinations to 95 by adding six new locations in 2020. Industry reports revealed that Turkish Cargo grew by 67% in the first half of 2020 and carried one out of every 20 air cargo flights around the world, increasing its global market share from 3.9% to 5.4% Reuters has not offered any explanation for taking down the tweet.