Le CCIF (Collectif Contre l'Islamophobie en France) a reçu 789 signalements pour des « faits islamophobes » en 2019, selon son rapport annuel publié ce mardi.
L'organisation avait reçu 446 signalements en 2017, soit une augmentation de 77% en deux ans.
Le CCIF a présenté mardi matin en conférence de presse depuis ses locaux en région région parisienne, les chiffres vertigineux de l'islamophobieen France.
Ainsi, on apprend dans son rapport annuel 2019 que « 70% des actes islamophobes ciblent des femmes », et que « 59% des actes islamophobes sont des discriminations ».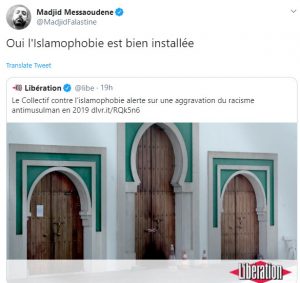 Parmi ces discriminations, le CCIF précise par ailleurs que 59% d'entre elles « proviennent du service public ».
L'association a rappelé durant sa conférence de presse que le gouvernement avait reconnu l'existence d'une menace émanant de l'extrême droite et qui pourrait donc toucher les communautés musulmanes.
Pour autant « rien n'a été mis en place » pour la « sécurisation des lieux de cultes » à ce stade.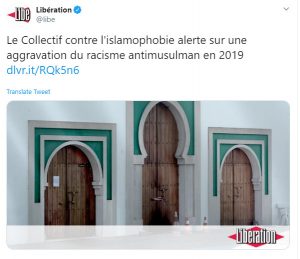 Par ailleurs, Ifakat Yuna, à la tête de l'ORIW (Organization of Racism and Islamophobia Watch), a «salué le rapport du CCIF» et alerte ainsi sur le fait que «l'islamophobie est un danger pour notre société».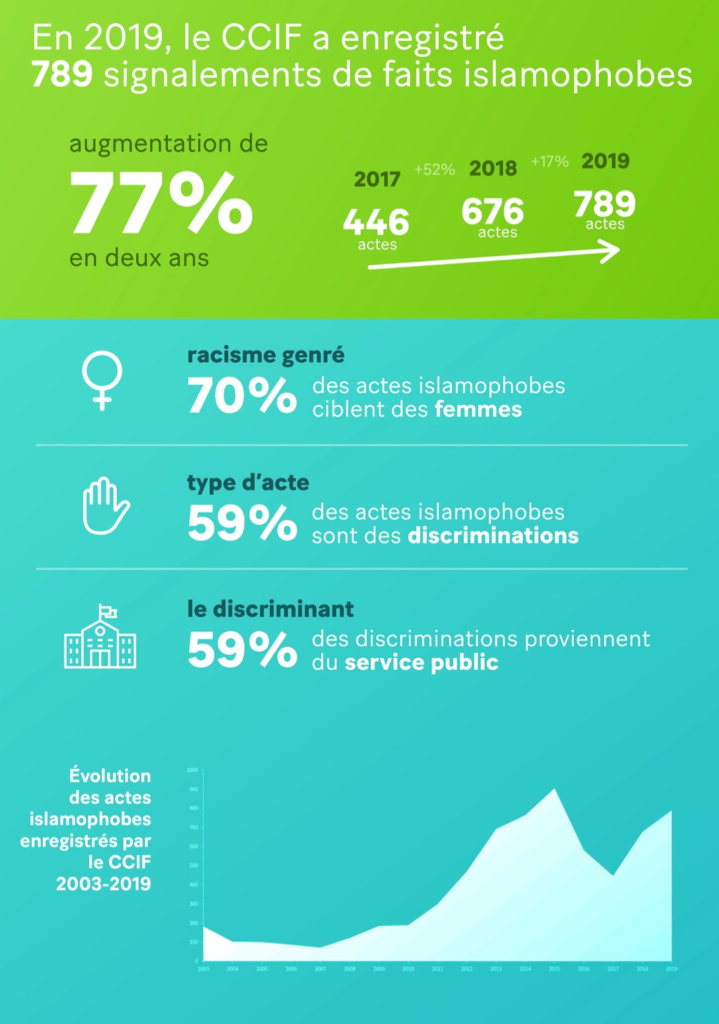 Elle estime que les chiffres «sont de plus en plus inquiétants » et ne montrent « qu'une partie de l'iceberg».
La dirigeante associative invite «les associations musulmanes à plus de vigilance pour faire remonter les actes aux organisations qui œuvrent en ce sens».
sOURCE: medyaturk.info