Two of India's prestigious universities have been closed until January 5 as student unrest has grown over a new religion-based citizenship law compared to the racist laws in Nazi Germany.
Dozens of students of Jamia Millia Islamia in New Delhi were injured on Sunday after police entered the campus and broke up their protest using teargas and batons.
This was the second violent police intervention in the university in three days.
"Police brutally attacked the protesting students and indiscriminately fired teargas shells. It was chaotic and police chased students everywhere," journalism student Umar Ashraf said.
Videos of the violence showed injured students being carried away by their colleagues, shattered windows of a library, blood in a mosque and students running to escape teargas smoke.
"Many students were trapped in a library reading room after police kept firing teargas shells," Umar said.
University chief proctor Waseem Ahmed Khan said the Delhi Police entered the campus without permission and beat up staff and students.
"The campus looked like a war zone. Delhi Police were behaving like goons," an eyewitness said.
Another person said a group of policemen entered a women's hostel and abused girls.
Earlier, videos of some damaged and torched Delhi public transport buses circulated on social media, with Indian television channels reporting that anti-citizenship law protesters were behind the incidents.
The university administration said Jamia students were not involved in the incident, which took place a kilometre away from the campus.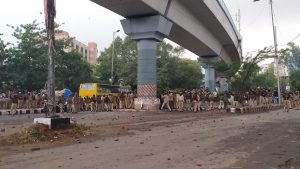 Delhi's Deputy Chief Minister Manish Sisodia demanded an independent inquiry into the bus burning incident as a video showed armed and uniformed police carrying liquid in plastic cans and pouring it into the buses.
The Delhi Police comes under the control of the federal Home Ministry rather than the elected state government.
As the news of the Jamia Millia Islamia police attack reached Aligarh Muslim University (AMU), 135 kilometres from Delhi in the state of Uttar Pradesh, thousands of students held a solidarity protest.
The Uttar Pradesh administration run by the Hindu nationalist Bharatiya Janata Party (BJP) responded by sending armed police units to put down the protests.
Eyewitnesses from AMU said that many students were injured and taken to hospital after police attacked them with teargas and sticks.
Some policemen were seen damaging parked bikes at the university.
One person said police entered hostels of the largely residential university, one of India's best universities with teaching facilities ranging from linguistics to petroleum engineering.
Public relations officer Omar Peerzada said the university is being closed until January 5 for a winter break and students are being asked to leave hostels.
A group of students mobilised outside the police headquarters on Sunday night in New Delhi to protest against the attacks on Jamia and AMU.
In the southern Indian city of Hyderabad, Maulana Azad National Urdu University students staged a protest in support of Jamia and AMU, and Pondicherry University students condemned the Delhi Police violence.
Students at the Tata Insitute of Social Sciences in Mumbai organised a candle light march, while Patna University in Bihar, and Jadavpur University and Aliah University in West Bengal held solidarity protests.
The Tamil Nadu-based Dravida Munnetra Kazhagam (DMK) party demanded that the BJP "must reconsider" the Citizenship Amendment Act in view of the widespread protests against it.
"Shocked to see visuals of brutal attacks on students in Jamia Milia and Aligarh Muslim University. Every drop of blood spilled will need to be answered for in the days to come," DMK chief M.K. Stalin said in a tweet.
The Citizenship Amendment Act, passed in parliament last week, has drawn widespread anger in various parts of the country.
Some opposition politicians have compared the law to Nazi Germany's racist laws and Israel's citizenship law.
The law seeks to give citizenship to non-Muslim asylum seekers from Afghanistan, Bangladesh and Pakistan if they have fled "religious persecution" and arrived in India before 2015.
It has been condemned as discriminatory against the Muslims as it will deprive them of citizenship rights when the Hindu nationalist government introduces the National Register of Citizens (NRC) by asking Indians to prove their citizenship though documents.
The NRC conducted in Assam to screen alleged illegal migrants has produced disastrous results, with 1.9 million being left out of the 32.9 million who submitted applications.
Critics say the new citizenship law will be used to grant citizenship to Hindus in the NRC while Muslims will be excluded and put in detention camps or jails.
Activists expressing solidarity with Muslims on the issue have called for a national civil disobedience movement.
"I will declare myself as Muslim in official papers and others (non-Muslims) should also do so in solidarity with Muslims. That will ensure the NRC's failure," human rights activist Harsh Mander said.
"The Citizenship Amendment Act is based on hollow grounds. The NRC has been created to grow the domestic constituency of Hindutva (the ideology of Hindu supremacy). We must build a movement against it," said Navaid Hamid, president of the All India Muslim Majlis-e-Mushawarat, an apex forum of Muslim organizations.
Abdul Rahman, an Indian Police Service officer posted in Mumbai, resigned to register his "civil disobedience" when the law was proposed.
He said "the whole idea" behind the citizenship law "is to divide the nation on religious and sectarian lines."
The Indian law has been described as discriminatory by the U.N. High Commissioner for Human Rights, the U.S. Commission on International Religious Freedom (USCIRF) and the International Commission of Jurists.