In today's world, the number of people whose lives have become interconnected with social media accounts for 43% of the world population, which means social media has literally become an integral part of our lives.
The social media which tries to influence us doesn't seem to treat its users fairly enough using a variety of methods and applications. It is dubious that social media platforms perform for the good of humanity and provide this service for its true purpose. Many of us have heard that the photos that we posted on twitter, facebook or Instagram with the help of the feature which is offered by social media sites have been recorded by American intelligence and the identities of users are recorded by scanning programs such as facial recognition. After the Cambridge Analytica data scandal, which dates back to the trial of Facebook founder Mark Zuckerberg, it also was revealed that Aleksandr Kogan's commercial firm Global Science Research (GSR) bought access to data from Twitter
After all these emerging facts it seems very unlikely not to think that whether Twitter really fights against spam and fake accounts by suspending thousands of them or it works for a number of people or organizations according to their agendas and criteria which are determined by them.
In 2018 Project Veritas –an organisation that routinely releases undercover video footages- released a report that shows Twitter employees admitting to censoring accounts, including banning them from the network because they do not agree with their political views. The report based on undercover video was showing Twitter employees admitting that they "shadow ban" accounts, which essentially bans them from the platform without letting them know that they have been banned so, based on a Twitter employee not liking something because it's pro-Trump or anti Trump (this can be widened to other political leaders of other countries), an entire account can be banned.
Another Twitter employee, Pranay Singh, admitted that the majority of their algorithms were geared in such a manner that they target people with certain political views. According to Twitter software engineer censorship of certain political viewpoints to be automated via "machine learning" In the video, it was explained that Twitter is "working on" a way to silence certain people and ideas on the platform. In the video, it was also told that the U.S. government routinely pressures Twitter to suspend or tamp down to reach of certain people's accounts. Direct Messaging engineer at Twitter told that " the U.S. government doesn't like people messing with their politics"
Again we see that Twitter ignores the rules violated by a verified account, while a non-verified Twitter account with a few followers doesn't have the same attitude as a rule violation and can suspend the account.
On Twitter, US Senator Marco Rubio posted two pictures –one showing Gaddafi while still in power, the other showing the Libyan leader being tortured just before his brutal murder. The clear message was a threat to depose Venezuela's President Nicolas Maduro. The question is that how come this doesn't break rules of Twitter? If any of a Twitter user posted this violent, graphic death threat tweet, would be suspended for it. It is so clear that unfortunately unlike US Senator Marco Rubio not many of us have immunity against Twitter violation rules.
Twitter informants are another way of suspending the accounts of Twitter users. These people on Twitter are likely to use a program to find twitter users and they tag on a tweet these Twitter users' usernames within the framework of their own rules and this provides a sort of keeping a record of these Twitter users and enables these accounts to be suspended.
As seen in the following pictures, the Twitter informant is continuously tagging twitter users' usernames in a Twitter post "today's reading list'' We see that some of the Twitter users accounts that he tagged are suspended.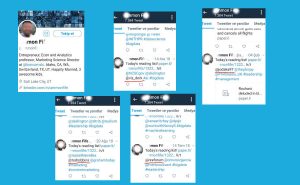 As a result, as if it is not enough of Twitter to make a discrimination between its users it also uses ''twitter informants'' in order to suspend users' accounts. Filtering, banning, shadow banning, and manipulating are what Twitter users see and I think Twitter is dangerously getting close to a thought-control platform each day more and more.