While deaths from novel Covid-19 surpassed 37 thousand globally and number of infections rapidly nearing a million, hospitals all around the world have been overwhelmed with ever-increasing number of patients. During these unprecedented times, the biggest challenge in fight with Coronavirus seems insufficient hospital capacities. A group of Turkish doctors launched a social media campaign to pinpoint that problem. Called Virtual Hospital, the campaign aimed at keeping non-Corona patients away from the hospitals to ease the burdens.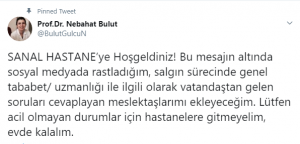 Nebahat Bulut, a professor of anesthesia at the prestigious Beykent University in Istanbul launched the campaign on March 28th when Coronavirus infection cases in Turkey was nearing 10 thousand mark. "We consulted more than 2 thousand people in the first 24 hours," Nebahat Bulut said. That means keeping 2 thousand people away from the hospitals when less people at the hospitals are more vital than ever to serve Coronavirus victims.
Virtual Hospital campaign volunteer doctors consult patients over Twitter. Patients who have received their test results on Turkey's online data system called e-pulse (e-nabız) simply submit them to the volunteer doctors on Twitter to get online consults on their health state and also possible treatments.
Nebahat Bulut says she actually personally started the project March 19th but after seeing big interest in what she started, she decided to take it a step further. "I received over 200 questions and I decided to start a thread on Twitter to let people know about other doctors who would provide the same service online," said Bulut. In just matter of two days, the Virtual Hospital campaign witnessed a snowball effect and now more than 20 volunteered doctors from variety of professions consult people, answer their problems online. In just two days, more than 2 thousand people took advantage of this volunteer work and stayed away from hospitals.
The cases are not just limited to non-Corona patients, according to Bulut. She says there are people whom are physiologically effected from the Coronavirus. "A lot of people asked if they might have Covid-19 symptoms but it was not the case," Bulut continued. There have been some cases with serious non-Corona health issues which have been directed to the emergency services by our doctors.
There are more than 10 thousand Covid-19 infections in Turkey as the number of deaths stands at 168. With 1.55 fatality rate, Turkey ranks below the death rate average in the world.
Turkish government has in the recent years made big-budged investments in the health sectors in the recent years. Large hospitals have been built and opened with private partnership in several cities. Yesterday, Turkey's Health Minister announced that first phase of the latest one of those hospitals opened in Istanbul and 2 more are to be opened in the upcoming months. According to OECD numbers, with 42 thousand beds, Turkey has the largest intensive care unit capacity.