Analysts accuse Western media to spread PKK/YPG's fabricated news in order to get the support of foreign audience. Majority of media outlets, their correspondents and some pro-PKK US officials have published fake news that were declined by Turkish authorities. Turkish side says the deliberate black propaganda is made to delegitimize Turkey's incursion as well as victimizing PKK/YPG terrorist organization.
Straturka has found several fake news samples just in a few minutes. For example, Newsweek claimed Turkey attacked a US military post based in Kobane.
https://www.newsweek.com/us-troops-syria-turkey-1464727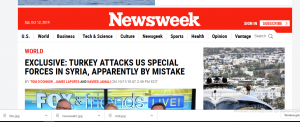 However, Turkish army immediately denied the claim and released below statement;
Meanwhile, Newsweek used a hostile language towards Operation Peace Spring in its wording, using terms like "so-called" for the operation.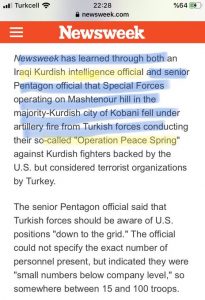 Newsweek's fake report was also used by US officials such as Bret McGurk, who is blamed for forming SDF and arming YPG.
Turkish forces have fired on a declared U.S. military outpost in northern Syria. Turkey knows all of our locations down to the precise grid coordinate as confirmed by SECDEF and CJCS only two hours ago. This was not a mistake.

— Brett McGurk (@brett_mcgurk) October 11, 2019
Some Turkey analysts like Ali Bakeer blamed him and interpreted the disinformation campaign as an attempt to use it as a tool to widen the gap between USA & Turkey and shift the battle to them.
These allegations r serious & obviously a part of disinformation campaign.
They r not less affective than military ops. "YPG" & its allies & sympathizers r using it as a tool to widen the gap btwn USA & Turkey and shift the battle to them.
There is a need to be more careful. https://t.co/x3fiBODg6M pic.twitter.com/r24GQVhdjW

— Dr. Ali Bakeer (@AliBakeer) October 12, 2019
On the other hand, BBC used the photo of victims of the YPG rocket fire to show that Syrian Kurds in Syria are escaping from Turkish attacks.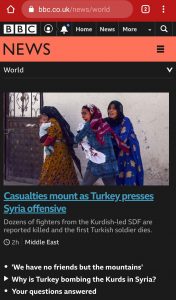 In another example, Washington Post correspondent Liz Sly shared PKK's claim that it killed 5 Turkish soldiers, which never happened.
The SDF now says it has killed 5 Turkish soldiers and destroyed a police station across the border in shelling from Kobane. There's more than one US base in the area. Hard to see how US troops can avoid being in the middle of this unless more of them are pulled back.

— Liz Sly (@LizSly) October 11, 2019
Moreover, French news agency AFP shared fake news whose source was PKK accounts. While it deleted some of them, the agency continued to share fabricated news.
#BREAKING Syria Kurds say 5 IS prisoners escape after Turkey shelling pic.twitter.com/5GoRt6kkdj

— AFP news agency (@AFP) October 11, 2019
https://twitter.com/AfpFactuel/status/1182341488350552064?s=20
On the other hand, Saudi Arabia's Al Arabiya media network also joined the fake news campaign.
مراسل العربية: مروحية خرجت من القاعدة التي تعرضت للقصف وترجيحات بأنها تحمل مصابين #العربية_عاجل https://t.co/a1vIGVFnOW

— العربية عاجل (@AlArabiya_Brk) October 11, 2019